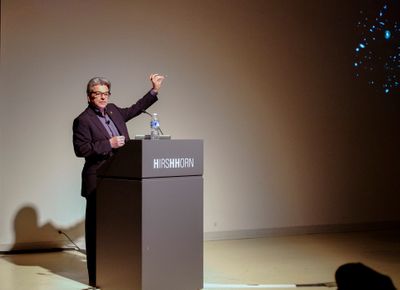 Since the publication of Infinite Worlds, I have made presentations at NASA spaceflight centers and in national science and art based museums, Among them have been NASA Goddard and Kennedy Space Flight Centers, the Smithsonian National Air and Space Museum in Washington, the Denver Museum of Nature & Science, the Chicago Museum of Science & Industry and the Intrepid Sea, Air and Space Museum in New York.
Presentations are designed to both engage and reveal to the public my experiences within the micro-cultures of human and robotic space exploration. Through compelling first-hand stories and unscripted photographs the narrative is framed by establishing context to the time and distance realities in exploring our solar system, galaxy and the universe from Earth.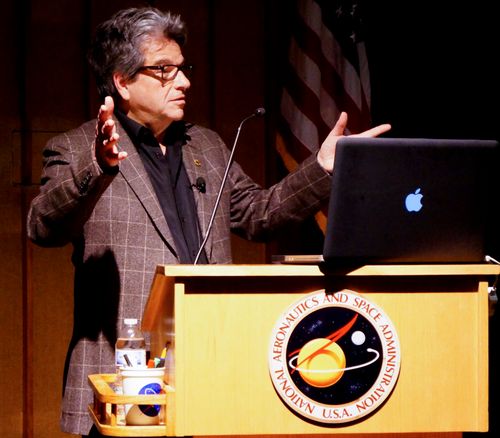 NASA Goddard Space Flight Center Engineering Colloquia
Presented "NASA in Photographs: evidence of human and robotic spaceflight on Earth and in space ... "
Smithsonian National Air & Space Museum, Washington, DC
Scenes from a Spacewalk—A Starry Night at the National Air and Space Museum - conversation on photography with curator Dr. Jennifer Levasseur; art photographer Michael Soluri, author of Infinite Worlds: The People and Places of Space Exploration; and NASA associate administrator for the Science Mission Directorate and former astronaut Dr. John Grunsfeld.
Intrepid Sea, Air and Space Museum, New York City
In context to both my book Infinite Worlds and the exhibition "Hubble@25" the Intrepid hosted an evening of conversation between myself and science journalist Miles O'Brien ( see Conversations).
Smithsonian Hirrshorn Museum of Modern Art, Washington DC
For Smithsonian Associates, I created a 90 minute venue to a sold out audience that involved a 30 minute presentation "Images of Infinite Worlds" then spent the next hour in both one-on-one and a group conversation with 4 NASA individuals who both wrote for my book and participated in the last ever shuttle mission to the Hubble Space Telescope: the STS125 shuttle Atlantis commander (Scott Altman), Hubble Senior Project Scientist (Dr. David Leckrone), EVA Task Lead (Christy Hansen) and Hubble EVA systems engineer (Ed Rezac)
Denver Museum of Nature & Science, Denver Colorado
In the DMNS Imax theater, I presented "The worlds of human and robotic space flight" plus Q & A